Physical Education Curriculum
Key Stage 3
Key Stage 3 PE enables our pupils to learn through physical experiences in lessons, helping them to build upon their KS2 foundations and follow healthy and active lifestyles. PE has the capacity to to develop a wealth of values in pupils, ranging from team work to cooperation and fair play. In addition to this, by delivering a broad and balanced curriculum of activities, pupils are provided with opportunities to develop skills and knowledge across a range of activities, giving them the confidence to pursue physical activity as part of community clubs and establish patterns of health and wellbeing which will be sustained into adult life,
What do we want to achieve?
The curriculum for Physical Education at Whickham aims to ensure that all pupils: 
Develop competence to excel in a broad range of physical activities 

Are physically active for sustained periods of time 

Engage in competitive sports and activities 

Lead healthy, active lives. 
What skills and knowledge will pupils develop?
Pupils will develop in 3 key areas:
Skill

– acquire and develop performance skills

Awareness

– acquire and develop knowledge based around theoretical concepts associated with healthy, active lifestyles

Social

– develop communication, teamwork and leadership skills through a range of different experiences.
Access for all pupils
KS3 PE allows all pupils, no matter what ability, to be inspired, motivated and challenged through physical activity.  Physical Education has a huge role to play in developing pupils' physical, social and emotional wellbeing and we hope that by supporting all pupils they can develop lifelong learning habits and fulfil a journey of personal development. 

All pupils will have access to study each curriculum activity. Each activity is differentiated to allow access to all multi abilities. 

KS3 schemes of work for each activity are progressive. Scaffolding present through the resources supports lower ability pupils in segmenting their learning and provides higher ability pupils extensive opportunities to be challenged to fulfil  their potential. 

Year 8 curriculum activities build upon Year 7 activities to allow pupils to revisit key skills and knowledge and support further progression to prepare them for KS4 courses. 
Key Stage 3 – Curriculum information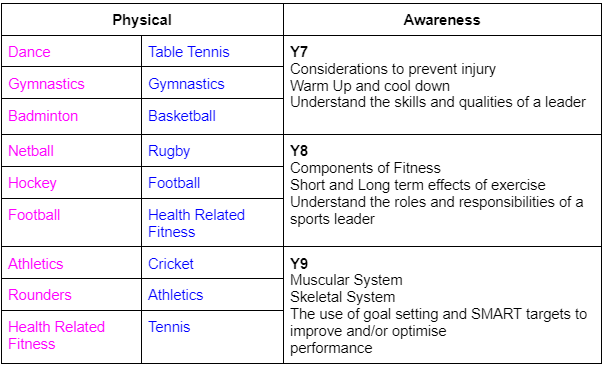 Key Stage 4 – Curriculum information
After Key Stage 3 students can choose to specialise in one of a number of options as part of the school's Key Stage 4 options process. These options include:
Key Stage 5 – Curriculum information