Good careers guidance motivates young people by giving them a clearer idea of the routes into jobs and careers that they will find engaging and rewarding.
At Whickham School we recognise that effective career guidance raises aspirations, improves motivation and overcomes barriers to success. The careers programme helps students identify and build experiences, skills and behaviours essential for a successful working future.  We provide students access to differentiated, impartial and independent information and guidance about the range of training options available post 14, post 16 and post 18, as well as insights into up to date labour market information and pathways to specific careers. By ensuring students have relevant, credible and up to date information we can effectively support them with decisions at all crucial stages.
Our programme enables our students to develop key employability and enterprise skills which are highly valued by employers, universities, colleges and apprenticeship providers. By providing our pupils with a broad and balanced curriculum coupled with relevant employability skills and knowledge that takes into consideration the NE labour market we can prepare students to be inspired, aspirational, productive, effective and valuable members of the workforce.
Meet the Team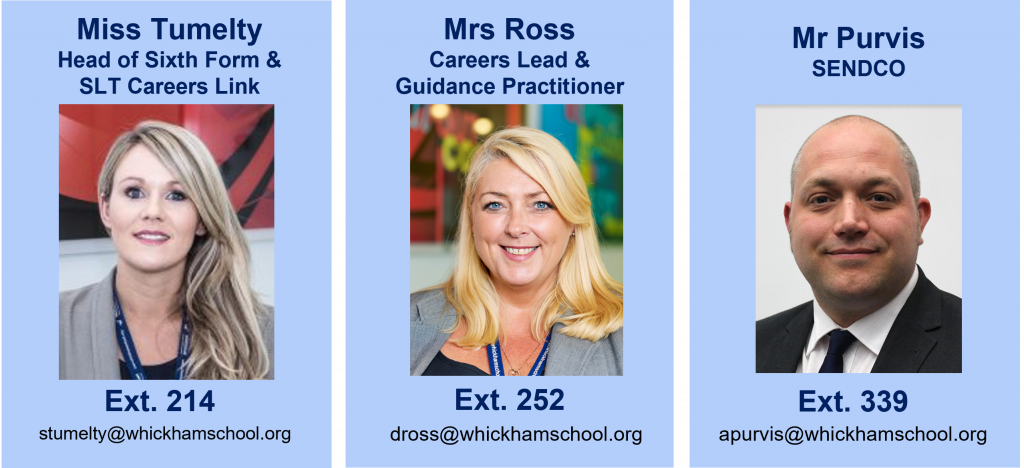 2023/24 Careers Programme
Our Careers Programme is updated annually and you can view a copy of the  2023/24 Careers Strategy and a copy of the 2023-24 Plan Summary. Please note, however, our programme is not static and we seek to confirm and add additional opportunities during the year.
Monitoring & Assessment
The careers programme is monitored internally as part of your review and reflection cycle. In addition, our delivery is monitored against the statutory Gatsby benchmarks.
Careers Policy & Contact Information
A copy of our Careers Policy and Provider Access Statement can be found on the Policies Page
The Careers Leader at Whickham School is Mrs Debbie Ross.  She can be contacted on 0191 496 0026 Ext 252 or by e-mail at: dross@whickhamschool.org