English Curriculum
Fluency in the English Language is an essential foundation for success in all subjects
What do we want to achieve?
A curriculum which fosters a love of learning. Allowing our team to share and model their passion with links to the real world that engage and motivate students, building upon pupil cultural capital. 

A rigorous, engaging, five-year curriculum that supports students to make good progress. Each year students build upon the learning of previous years, developing their depth of understanding to master each topic, strengthening their reading, writing and oracy skills. 

A curriculum which allows all pupils, no matter what ability or set, to be stretched and challenged to achieve beyond their potential. We firmly believe that all students can achieve in English. 

A curriculum which interleaves content throughout, ensuring that pupils are able to develop their recall. 

Our overarching aim for English teaching at KS3 is to promote high standards of literacy by equipping students with a strong command of the written and spoken word, and to develop an appreciation of literature and love of reading. These skills are vital to prepare students for their English GCSE. 

 A curriculum where 'we will identify and explicitly teach vocabulary'.
What skills and knowledge will pupils develop?
All students will be able to develop their reading, writing and oracy skills. Each skill is incrementally built upon from Year 7- Year 11. 

All students will develop a good understanding of language analysis, structure, evaluation, comparison, synthesis. Students will be able to select a judicious range of textual details from a text. 

All students will learn how to effectively embed their subject terminology and comment on the writer's intentions. 

All students will be able to create their own texts, suitable for purpose, format and audience. 

All students will develop high standards of literacy with a strong command of the written and spoken word, and to develop an appreciation of literature and love of reading.
Accessibility: 
All pupils are given the opportunity to access the whole curriculum. Our team structures lessons in such a way where the expectations for all students are the same. However, the way in which we support all students to achieve this is differentiated through scaffolding and differentiated fluency, 'teaching to the top' and scaffolding down to provide additional support. 

Behaviour for learning is good within the faculty – the team believes in fostering and maintaining good relationships with students. Our pupil voice has indicated that students feel safe and well supported in English. 

Word Shark Intervention and Reading intervention takes place to support KS3 students on a morning to support students further. 

English teachers complete additional intervention, outside of typical English lessons. This gives pupils a bespoke 1:1 experience, building upon classwork with a focus on closing gaps in knowledge and developing recall and key skills required for succession. 

We adopt a growth mindset philosophy within the faculty. This fosters a safe learning environment where students know it is ok to take risks and make mistakes in their writing. Students know they have support to make expected progress in and out of lessons. Teachers give detailed personalised learning task feedback which allows pupils to reflect upon their mistakes and review and reflect their work to strengthen this. 

The variety of pedagogical and cooperative learning strategies allows us to reach previously disengaged students.

HLTAs work with Year 10 underachieving pupil premium students after school on a one-to-one basis to address weaknesses and work on exam technique to help promote progress.

A cohort of underachieving pupil premium students in Year 11 have been assigned external tutors to work with them on their strengths and weaknesses outside of school. The teaching staff within the department communicate regularly with the tutors to ensure the support received is specific to student's needs.
English Learning Journey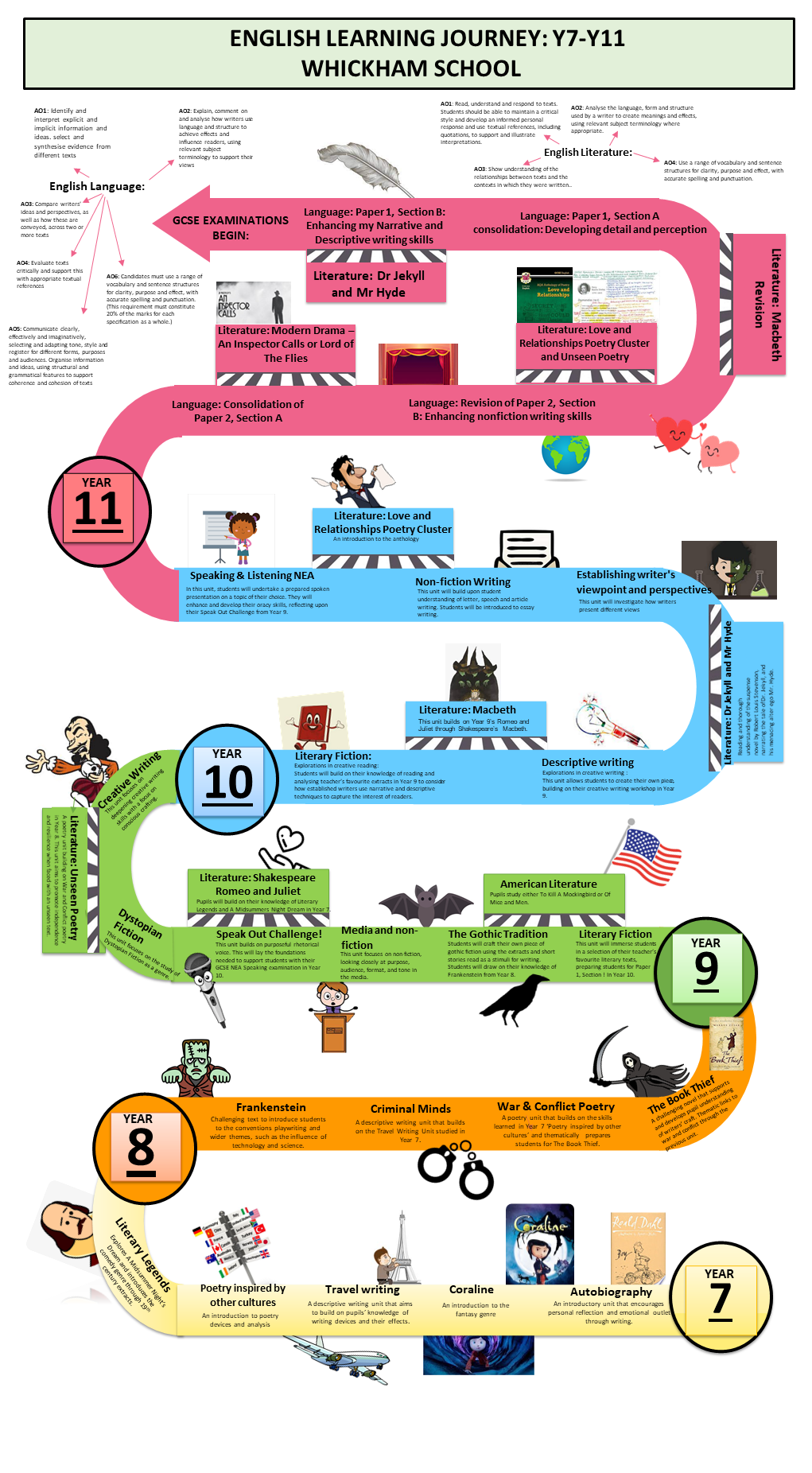 Curriculum Overviews: