Bus Services – September 2023
Nexus school bus services
Nexus contract a number of bus services to provide school transport to and from Whickham School. 
Nexus timetable document (changes are reflected in red)
Morning services
Afternoon services (leaving at 3.20pm other than alternate Tuesdays at 2.15pm)
Afternoon services (leaving at 4.25pm other than alternate Tuesdays at 2.15pm)
NEW

892 [MAP] Whickham school to Blackhall mill via Byermoor, Rowlands Gill, Sherburn Towers, Highfield and High Spen.
Stanley Travel bus services
The 801 Bus Service is provided in partnership with Durham County Council and Stanley Travel for students travelling from Dipton, Flinthill, Crookgate, Hobson and Burnopfield to Whickham School. The service operates in the morning and after school. The 801 Timetable can be viewed on the link below.
The 801 connects to the 713 service from Stanley and Tanfield.

801 Weekly tickets will be available to purchase on the 713 and weekly tickets bought via the My Trip app will be accepted on the 713 connecting services*

Current prices: Single = £2.40,  Return = £3.60 and Weekly = £15.00 (subject to change) 

Please note that whilst the morning connection is guaranteed, the evening connection is not – if traffic causes the 801 to be delayed students will have to wait for the next 713 service.
Click here for a copy of the 801 Timetable
Travelling to school
The Nexus Travelling to School Website has all the information you need about transport services for students under the age of 16.  They have also produced this handy fact file (click the image to open) about getting to school by public transport.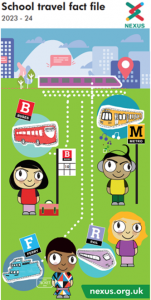 Planning your journey
Tickets and passes
Getting help
Call Nexus Customer Services on 0191 20 20 747 for all public transport advice and information or send them a query 
Concerns or complaints with regards to the bus services should be directed to:
Nexus (0191 20 20 747)
Stanley Travel (01207 237 424)
Mr McCaughey oversees operation of the buses within school.