An apprenticeship is a paid job, with hand-on experience and the chance to train while you work.  You will be treated just like all other employees with a contract of employment and holiday leave.
If you're over 16 and and not in full time education you can become an apprentice
Your apprenticeship can take between 1-6 years to complete depending on what level you choose
You will get paid and train with at least 20% of your time spent in off-the-job training, often at college university or with a training provider
You train to be fully competent in your chosen occupation
You're on a career path – with lots of future potential for you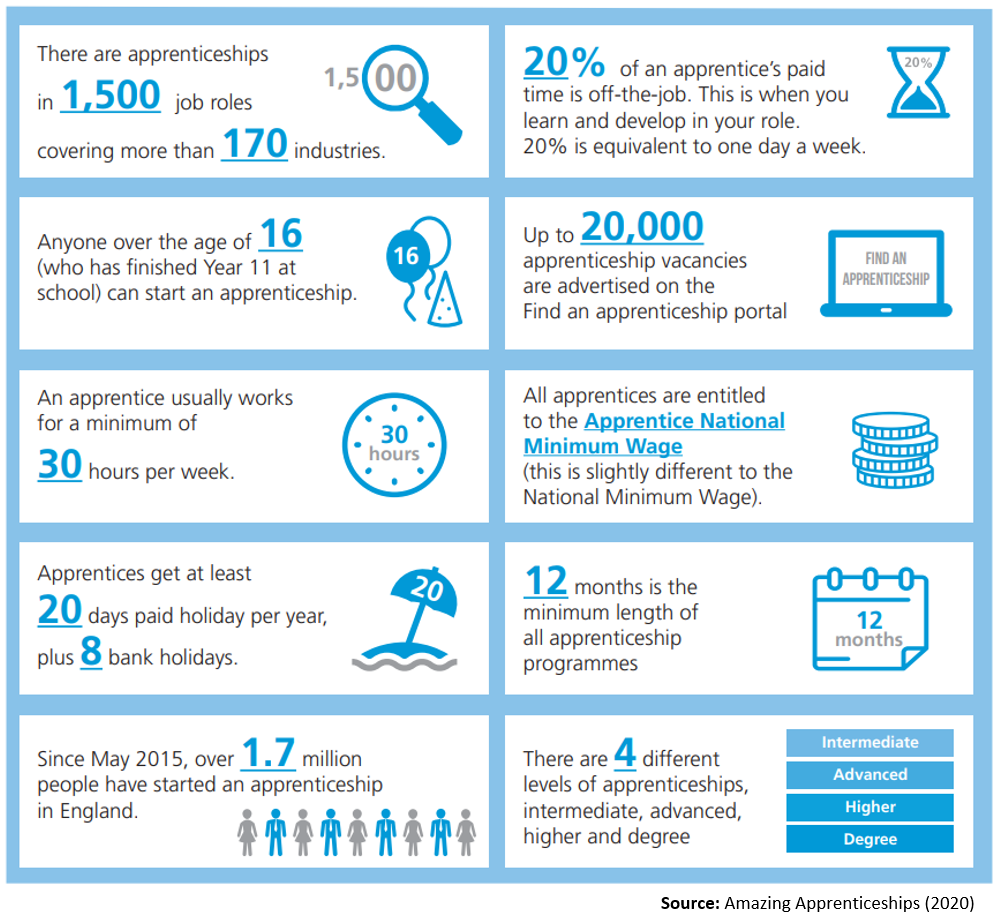 Amazing Apprenticeships – Using 'Find an Apprenticeship' to apply from Amazing Apprenticeships on Vimeo.
Intermediate Apprenticeships (Level 2 – equivalent to 5 GCSEs)
Entry requirements: usually 2 or more GCSEs (this may vary dependent upon the employer)
If you don't have GCSE English & Maths you are usually required to take these as part of the apprenticeship
Qualification: NVQ Level 2, BTEC Diploma or National Certificate
Provides a pathway onto advanced and higher apprenticeships
Advanced Apprenticeships (Level 3 – equivalent to 2 A Levels)
Entry requirements: vary but you usually need at least 5 GCSEs (Grades 9 – 4) including English & Maths
Qualification: NVQ Level 3, BTEC National Certificate
Higher Apprenticeships (Level 4 – equivalent to a foundation degree or above)
Entry requirements: can include at least five GCSEs  (Grades 9 – 4) on the new including English and Maths, and Level 3 qualifications, including A levels, NVQs, or a BTEC.  Some employers will  expect or require applicants to have studied subjects relevant to the apprenticeship.
Can take between 1 – 5 years to complete
Qualification: NVQ Level 4, HND or foundation degree
Some offer the opportunity to progress to Level 7 (Postgraduate degree level)
Degree Apprenticeships (Level 5-7 equivalent up to bachelors or masters degree)
Developed by employers, universities and professional bodies working in partnership
Combines work with studying part time at university
Can take between 1 – 6 years to complete
Entry requirements: can include at least 5 GCSEs (Grades 9-4) and Level 3 qualifications including A Levels, NVQ Level 3 or BTEC National
Qualification: NVQ Level 5-7, Higher National Diploma, Foundation Degree, Bachelors Degree, Masters Degree

Check out our Careers Resources Page for more useful apprenticeship related links