Drama Curriculum
What do we want to achieve?
To provide an inspiring and structured Drama curriculum which personalises every pupil's learning needs at each Key Stage.

To improve student's knowledge and understanding of the whole creative process.

Develop pupil's critical analysis skills and imaginative and expressive potential.

Develop pupils emotionally and socially through ensuring enjoyment and achievement in the participation of the arts.

To encourage creative risk taking.

To ensure access to a broad, ambitious and balanced drama curriculum for all pupils, that is

diverse and relevant.
What skills and knowledge will pupils develop?
Drama lessons at Whickham School will be taught under the following four strands:
Understanding Drama

–

Developing key skills: Characteristics of performance, Social, cultural and historical contexts, How meaning is interpreted and communicated, Stage positioning and configuration.

Devising Drama

–

Creating and Performing. 

Texts in Practice

–

Interpret texts, Create and communicate meaning, Realise artistic intention in text-based drama.

Performance

–

Learning dialogue for performance, Develop the ability to interpret / create a character, Develop a range of vocal and physical skills.
Pupils will
Develop the ability to think and act creatively. Creative behaviours. Understanding creativity.

Be able to employ a range of teamwork skills. Learning to be empathic and reactive team players.

Learn how to build and maintain a variety of complex characters.

Be able to use a range of performing skills, using body voice and space, with justification for decisions.

Develop the skills to be able to become an active listener. Analysing live theatre and drama and securing the ability to constructively and sensitively critique the work of their peers.
Key Stage 3
A curriculum is in place at Key Stage 3 that allows pupils to return to key concepts throughout the key stage and build on them to advance their knowledge further as the years progress. Year 7, 8 and 9 where all pupils will study:
Key acting skills during the Autumn term,
Explore a text through performance

during the Spring term. 

Put their skills into practice in Summer term,

through exploration and devising a themed topic

. 
In Year 7 Drama students will start with introductory skills as students will arrive from KS2 with varying levels of dramatic experience. They will participate in group activities to support confidence building with their peers and on stage. They will be working towards being able to complete the following skills:
Group work

– Contribution, Directing, Supportive, teamwork.

Techniques & Conventions

– Skills linked to different styles of Drama for impact on the audience.

Voice

– Projecting appropriate voices for a character. 

Movement

– Using mine and body language to express a character.

Character

– Creating basic roles that are consistent and engaging.

Analysis & Evaluation

– Discuss how drama is constructed and judge its effectiveness through peer assessment.
These dramatic skills and their knowledge will then be developed across the key stages.
An introduction to the basic skills (voice, movement and character development)  in drama is required before delving deeper into the demands of each one. 
An understanding of key dramatic techniques is then the next step before a more in depth study of key practitioners and their specific dramatic techniques; which will serve to inform the devising process at KS4.
Explorative strategies need to be introduced and explored at a basic level first in Year 7 which will be revisited and built upon across the keystage.
Further in depth exploration of explorative strategies in Year 8 and 9 is required to provide a good foundation and understanding in preparation for KS4. Use of particular texts and scripted work will develop across the key stages and allow students to experience a range of characters, voice and movement.
Assessments are required to develop performance skills and analysis/evaluation which will prepare students for particular elements of assessment at KS4.
In Year 9 students will be introduced to the rigour and demands of GCSE study and the four assessment objectives will be explained and referred to consistently throughout each stage of the course with a key focus on AO1 and AO2 for assessment.
Key Stage 4
In Year 10 a deeper exploration of key practitioners is required to effectively prepare students for the demands of the devising (AO1 & AO4) component. The set text will be taught (one lesson per fortnight) from the very start of the KS4 course to ensure all students are prepared for the written exam at the end of Year 11 (AO3). Scripted texts (AO2) will then be explored at a much deeper level than at KS3 before students begin to complete the practical assessments of their actual GCSE.  
In Year 11 students will be completing assessed units in order – C1 (AO1 & AO4) , C2 (AO2) and C3 (AO3) to fit with the schedule and timing of the exam board.
Drama Learning Journey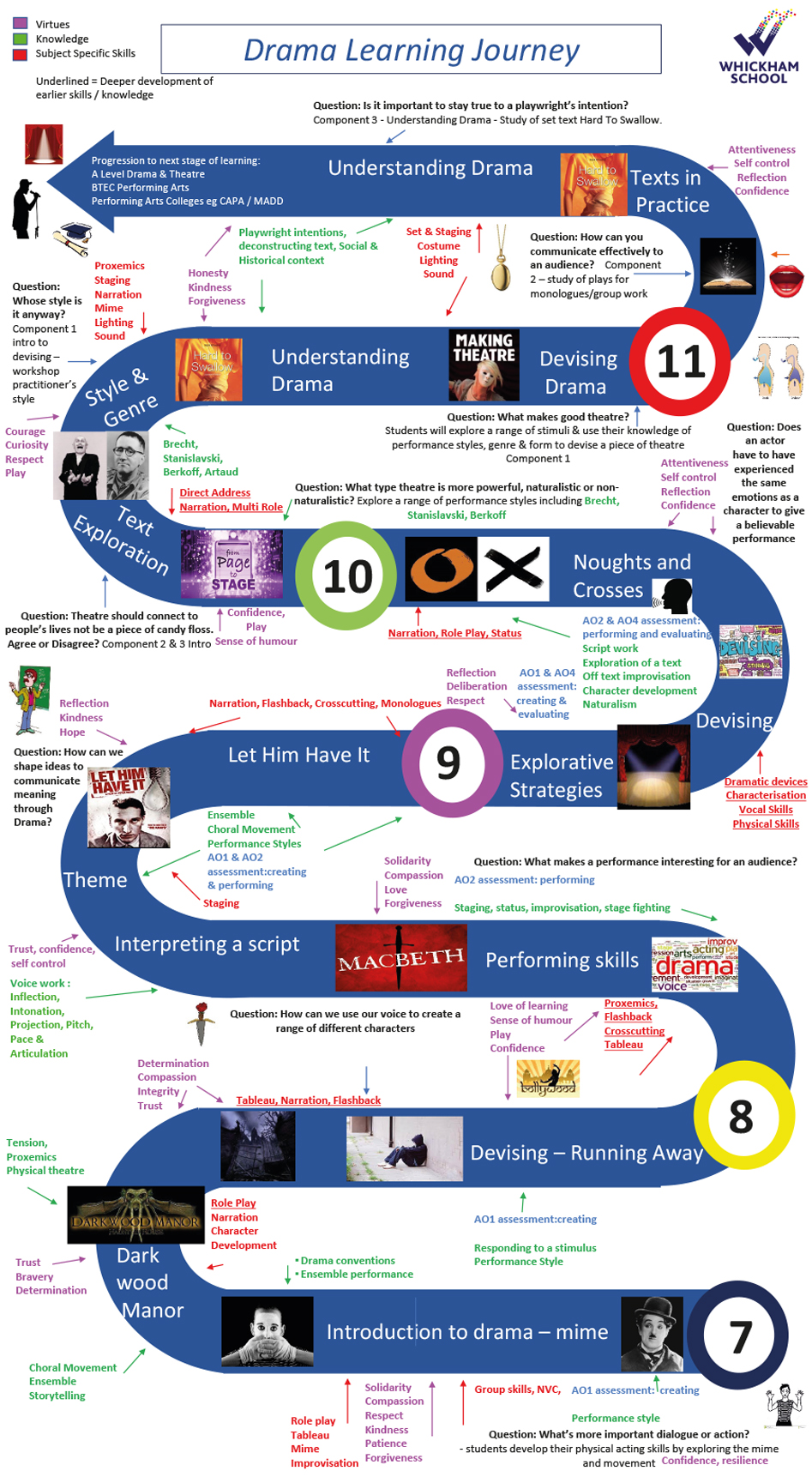 Curriculum overview
Key Stage 3

Key Stage 4

Key Stage 5

Half Terms
7
8
9
10
11
12
13
1+2
Skills - An introduction to drama
Skills: Acting skills
Skills: Developing believable characters
Stanislavski Naturalism
Practical devised assessment
Devising
Personal Investigation
3+4
Exploration of a text: Our Day Out
Exploration of a text: Blood Brothers
Exploration of a text: Noughts and Crosses
Brecht Non naturalism
Practical examined assessment
External assessment
External assessment
5+6
Devising: Darkwood Manor
Devising: 7 deadly sins
Devising: Brecht
Artaud Surrealism
Written examined assessment set text
Variety Show
Scripted performance
View a more detailed copy of the 7-11 Drama Curriculum