Health and Social Care Curriculum
What do we want to achieve?
Health and Social Care at Whickham School will prepare our students for the world of work in the 21st Century. About 3 million people work in health and social care. Health care roles include doctors, pharmacists, nurses, midwives and healthcare assistants, while social care roles include care assistants, occupational therapists, counsellors and administrators. Together, they account for nearly one in ten of all paid jobs in the UK. Demand for both health and social care is likely to rise, so they will continue to play a key role in UK society and the demand for people to carry out these vital roles will increase. Study of this sector at Key Stage 4 will complement GCSE study through providing an opportunity for practical application alongside conceptual study. There are also strong opportunities for post-16 progression in this important sector.
What skills and knowledge will pupils develop?
The Tech Award gives learners the opportunity to develop sector-specific knowledge and skills in a practical learning environment. The focus is on three areas, which cover:
Skills and processes, such as interpreting data to assess an individual's health, and designing a plan to improve their health and wellbeing

Attitudes, namely the care values that are vitally important in the sector, and the opportunity to practise applying them

Knowledge that underpins the effective use of skills, processes and attitudes, including human growth and development, health and social care

services, and factors affecting people's health and wellbeing.
Access for all pupils
Component assignments are holistic and allow students to access all criteria from Pass level to Distinction level.  Students are encouraged to use real life experiences and people to support their learning. 
Learning Journey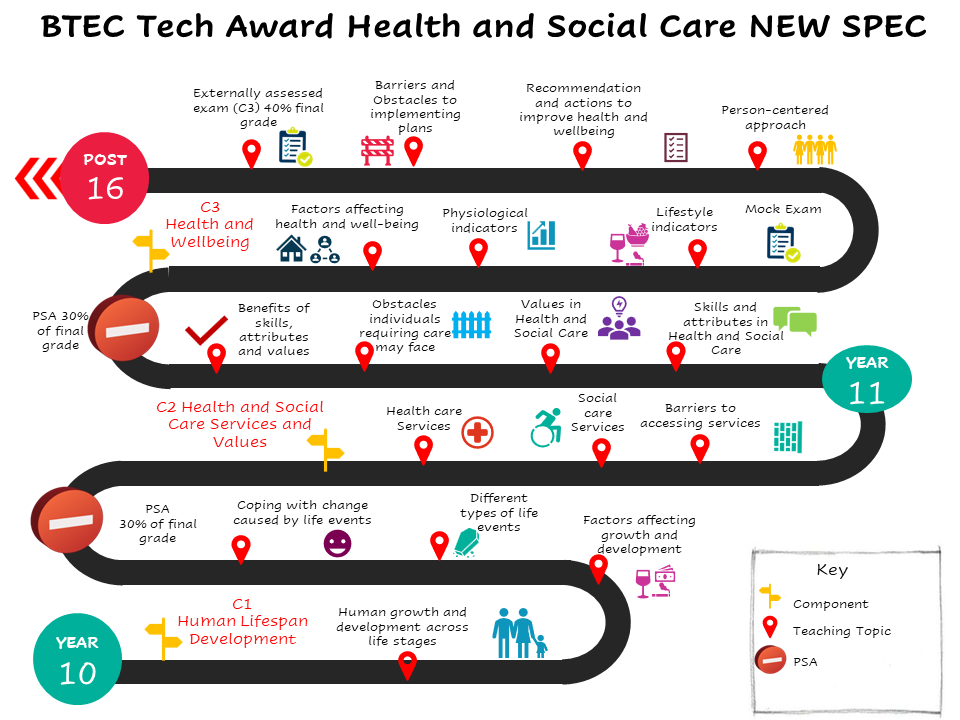 Curriculum overview