On-Line Learning Platforms
In order to promote home/school liaison and to support further learning from home we recommend a number of on-line learning platforms. These platforms and resources are listed below, some are for all subject areas and others are subject specific.
How-To Guides and Frequently Asked Questions
Microsoft Teams
Microsoft Teams will be used to communicate with your school teacher through live events or when assigned have proper interactive lessons with your teacher where the teacher will be able to pose you questions and you will be able to respond with your webcam and mic.

Libby by Overdrive
In Accelerated Reader lessons at Whickham, students have a vast choice of books of all genres. This allows our students to explore their imagination, develop their vocabulary, and track their progress with reading. In order to support home learning during students' usual library lessons, we'd encourage your child to sign up to your local library's online server to access e books. Your child can then use the "Accelerated Reader Bookfinder" website to see if there's a quiz available. See how to access your local library online in the video.

ALL SUBJECTS:
Class Charts
Class Charts will be used to communicate school work with pupils and parents and direct pupils to specific platforms and resources as required. www.classcharts.com
SAM Learning
Username: Date of Birth followed by initials in the format DDMMYYII
Password: The first time you log in in your password is your username.  If you have logged in before and forgotten you can request a password reset from school or the SAM Learning  Support Desk www.samlearning.com 
Google Classroom
Google classroom can be accessed by using your school login details.  Teachers can share resources with you and you can complete and upload assignments for marking www.classroom.google.com To learn how to use google classroom please view this video.
Seneca
Seneca is a very useful revision resource providing instant feedback on Science, GCSE PE, Computer Science, KS3 & KS4 French, KS4 German, English Language, English Literature (Ideal for plot, character, theme and quotation learning) www.senecalearning.com
BBC Bitesize
For all subjects at GCSE and A Level.  Includes videos to teach subject content.  www.bbc.co.uk/bitesize
Revision can also be undertaken on the free go bitesize app
Get Revising
Revision Tools, Homework & Exam help www.getrevising.co.uk
ART:
Whickham School 'Stay Connected' Photo and Art Gallery
Take a look inside the our virtual art gallery
ENGLISH:
Mr Bruff Revision Videos (Youtube)
Videos teaching content for both English Language & English Literature.  Will talk you though model answers, themes and characters. www.youtube.com/user/mrbruff
Emagazine
Online academic library of Literature and Language articles on core texts and theories for A Level & GCSE www.englishandmedia.co.uk/e-magazine Username: WhickhamEnglish Password: English2019
CAREERS:
Unifrog
Careers Planning, Options, Pathways and Destinations www.unifrog.org
COMPUTER SCIENCE:
iDEA
Code Academy
 MATHS:
Hegarty Maths
Hegarty Maths is for use by all pupils for homework and independent revision / study.  The "Memri" and "Fix up 5s" functions are available to support revision and retrieval. www.hegartymaths.com
Corbett Maths
Corbett Maths is a website with every GCSE topic by grade, includes revision videos, workbooks and worked solutions. www.corbettmaths.com 
Maths Genie
Maths Genie offers information on GCSE topics by grade, includes revision videos, workbooks and worked solutions                                                            www.mathsgenie.co.uk 
OnMaths
Online practice GCSE AQA papers.  Papers are marked and graded. www.onmaths.com
MFL:
Quizlet
Quizlet provides opportunities for vocabulary drilling www.quizlet.com/en-gb 
Kerboodle
Online assessment tasks to practice listening, reading, writing & speaking  www.kerboodle.com
PE:
In the absence of having regular PE lessons at school, it is essential that you plan for how you will exercise while you are away from school.  It is also essential that you follow government guidelines on social distancing and self-isolation where required, but there are many ways in which we can all continue to take part in regular exercise. Check out our newest Whickham PE Challenges.
PE Challenges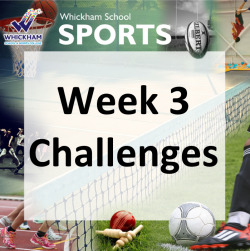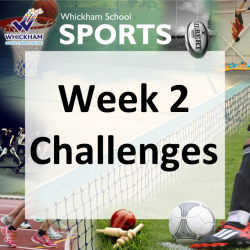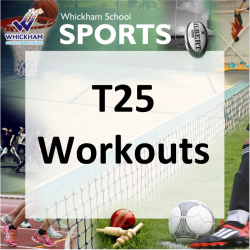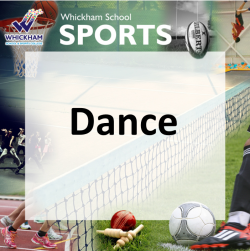 Bubble Tasks
For students attending one of the year bubbles in school – you have been given a number of tasks to complete to further improve your knowledge of PE, health and fitness. These tasks can be completed on Word or can be written.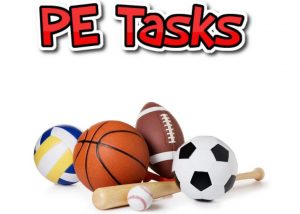 FOR THOSE WORKING FROM HOME:
One Minute Challenges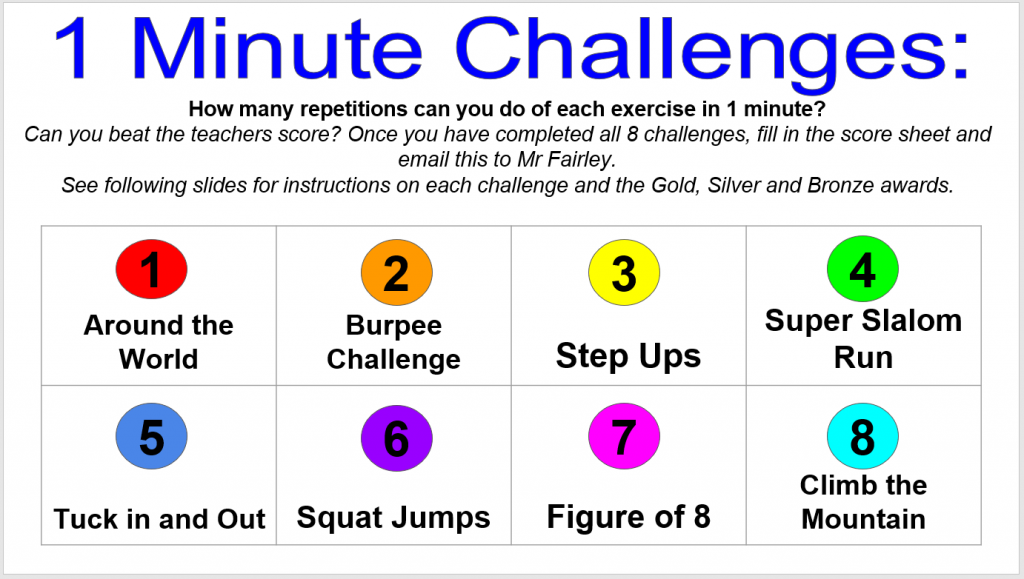 Running Challenge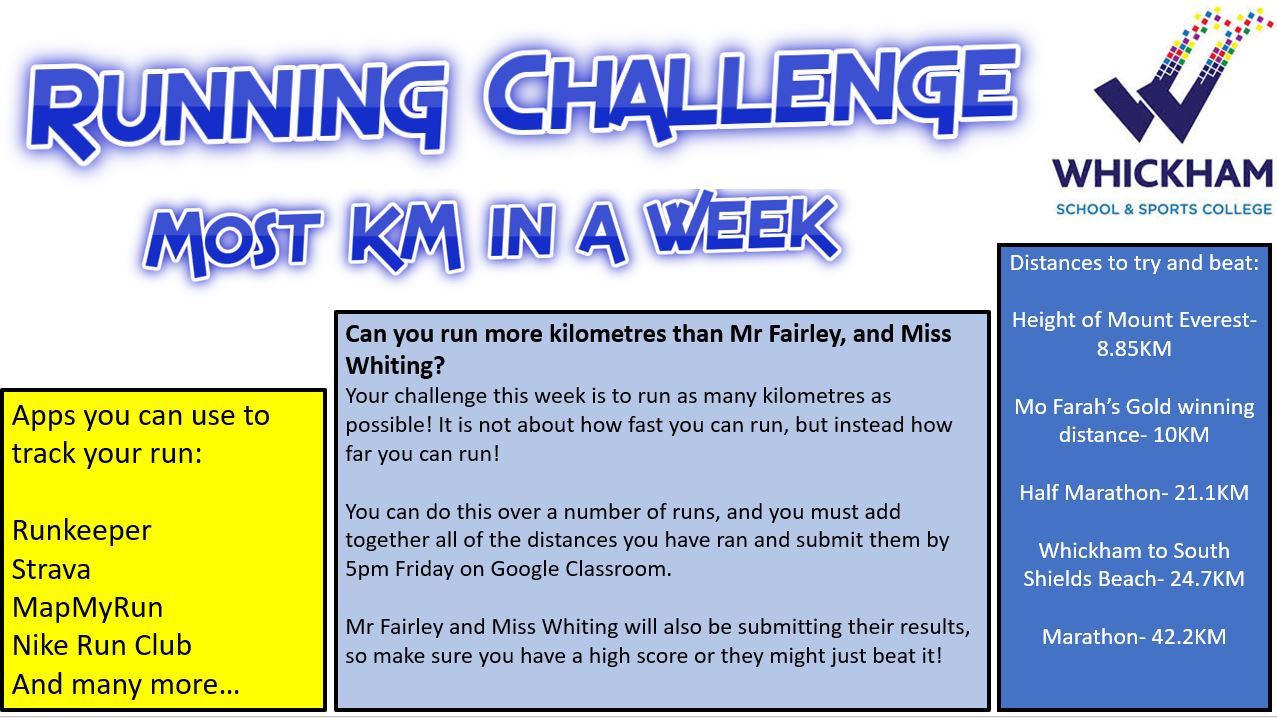 Homecourt Double Target Challenge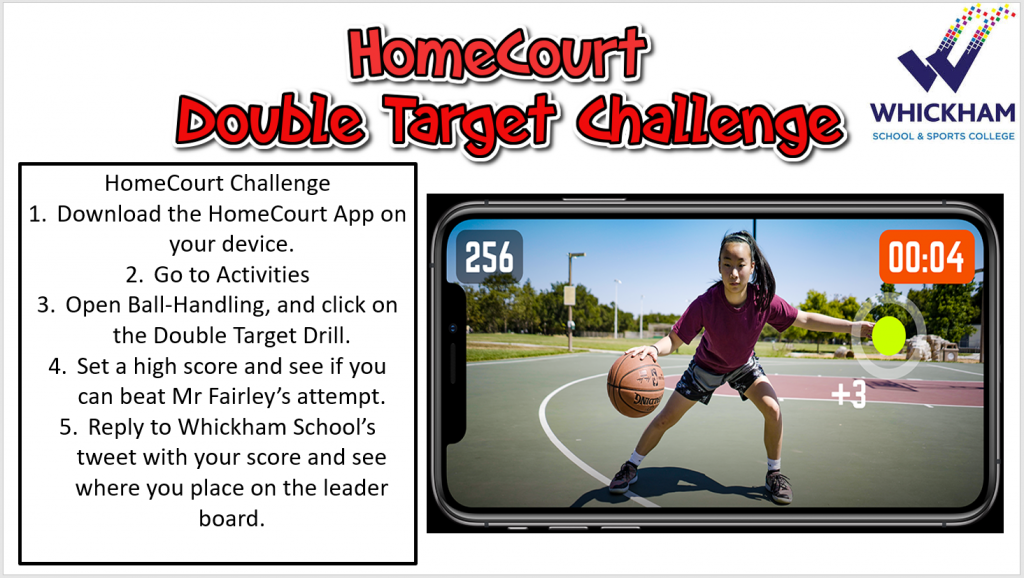 Miss Whiting's Dance Challenges


Everlearner
Useful for A Level and GCSE PE.  Contains videos teaching subject content and tasks that provide instant feedback.                                      www.theeverlearner.com