Results – 2021/22
A summary of KS5 results appears below.
A-Level
Vocational
A*-A
27%
D*
57%
A*-B
58%
D*-D
87%
A*-E
99.7%
D*-P
100%
Average grade
B
Average grade
Distinction
Please click below for a more detailed summary set against results from previous years:
Results – 2019/20 and 2020/21
Due to the unique circumstances affecting public examinations in 2019/20 and 2020/21 we are not publishing results statistics (as provided for by the DfE). Please see below for a copy of our most recent results statistics.
It is currently anticipated that school results summaries and national performance tables will be published for the 2021/22 academic year.
2018/2019 Results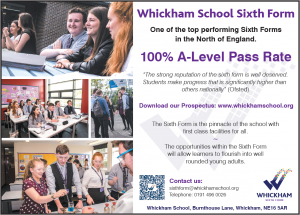 DfE KS5 performance information for Whickham School