Each September, our new sixth formers begin to plan their Charity Week Programme as part of their induction. Hours are spent discussing what type of events will raise money and who will be responsible for the planning, organisation and co-ordination.  From here a Charity Week committee is formed to plan and oversee the running of events. This process is always a fantastic opportunity to develop leadership, team work and organisational skills whilst encouraging students to act on opportunities to help and support others.
Apart from the very important fund-raising, Charity Week serves as great entertainment to the whole School and our wider community with spectacular shows such as the much-loved Teacher's Strictly Come Dancing, Variety Shows and Whickham X-Factor. There are also fantastic performances from our teachers in the Lip Sync Battle and the bravest put themselves forward for the Bush Tucker Trial.
Whickham Sixth always prove to be dedicated, creative and innovative fundraisers and each year invent new ways to "involve" their teachers, with leg waxing and sponge the teacher firm favourites.
Charity Week 2023
This year, in a break with tradition, students voted to support not one, but two very important charities that held very personal significance: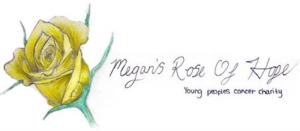 Megan's Rose of Hope – In memory of Megan Anne Kelly
Megan was a student at Whickham, one who is fondly remembered by all who knew her, and both staff and students cherish their memories of her. After a brutal and extremely brave battle with cancer Megan passed away at the tender age of 19. She was a kind, charitable and giving young woman – who used her precious final days to help plan charity events to raise funds for cancer charities. Indeed, during her time in Whickham Sixth Form Megan took part in her own Year 12 charity week  activities. It is because of this that students have voted to support the charity setup in her name to help raise awareness and create a network of support for young people aged 11-25 who are diagnosed with cancer.

Metabolic Support UK – In memory of Chloe Charlton
Chloe was the sister of one of our current Year 12 students, Alfie.  His very personal story touched the hearts of us all as he described the devastation caused to his family when his sister Chloe was diagnosed with a rare metabolic disorder. At 3yrs old she passed away after an agonising fight with Alpers Disease – a disease that has no cure and no way of slowing it down.  Metabolic Support UK helps to provide patients and families with bespoke support tailored to their needs at all life stages.
Previous Charity Week Charities
2019 Charity Week Film
Check out our Gallery to see all the charity week fun!