Charity Week
Each September, our new sixth formers begin to plan their Charity Week Programme as part of their induction. Hours are spent discussing what type of events will raise money and who will be responsible for the planning, organisation and co-ordination.  From here a Charity Week committee is formed to plan and oversee the running of events. This process is always a fantastic opportunity to develop leadership, team work and organisational skills whilst encouraging students to act on opportunities to help and support others.
Apart from the very important fund-raising, Charity Week serves as great entertainment to the whole School and our wider community with spectacular shows such as the much-loved Teacher's Strictly Come Dancing, Variety Shows and Whickham X-Factor. There are also fantastic performances from our teachers in the Lip Sync Battle and the bravest put themselves forward for the Bush Tucker Trial.
Whickham Sixth always prove to be dedicated, creative and innovative fundraisers and each year invent new ways to "involve" their teachers, with leg waxing and sponge the teacher firm favourites.
2020 Charity Week
For Charity Week 2020 we will have to take a slightly different approach but Year 12 have risen to the challenge.  This year they have chosen to support Papyrus  suicide prevention.  Although there are many restrictions placed on our fundraising this year, Year 12 have adapted and overcome with a myriad of innovative socially distanced way to raise funds.  You can help them by donating on-line via our Just Giving Page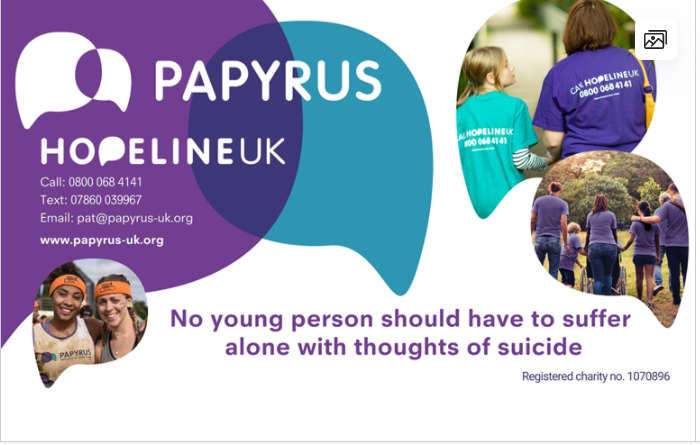 2019 Charity Week
Last year, in a break with tradition students voted to support not one but three very important charities.  With a theme of "generations" they chose charities that provide support and empowerment across the generations:
Older Generation – Alzheimer's Society: Students chose Alzheimer's Society as a thank you for the outstanding and often underrated care and support they provide to people with Alzheimer's and dementia who often are in the twi-light of their years. The students aim was to not only raise funds, but also to help to raise awareness and understanding within our school and wider community.
Younger Generation – Tyneside & Northumberland MIND:  Issues around Mental Health are increasingly common for young people and students want to help support Mind to support those who suffer or have been affected in some way. Their aim is to not only raise funds for Mind, but also to help remove the stigma by raising awareness and promoting understanding of Mental Health.
Future Generation – Whickham School New Build: In addition to the two external charities supported Year 12 would like some of the money raised to be given towards equipping their new school building. Students wanted their new school not only to be the best it can be now, but hope that their Charity week fundraising efforts will be a legacy to the future generations of Whickham students.
In February 2020 it was an honour to present our final cheques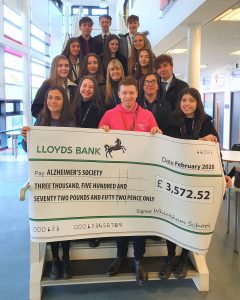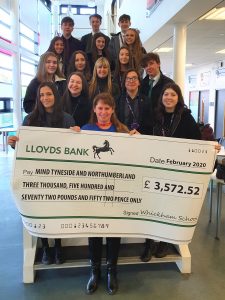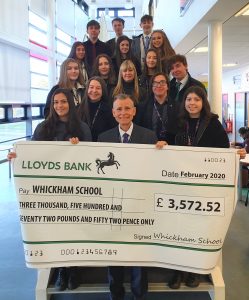 Check out our Gallery to see all the charity week fun!
2019 Charity Week Film