Prospectus & Courses
Sixth Form Prospectus
2022 Whickham School Sixth Form Prospectus
2022 Whickham Sixth Form Course booklet
2022 Whickham School Curriculum Grid
If you need to discuss any aspects of the Sixth Form Curriculum then please contact with Ms. S. Tumelty, Head of Sixth Form.
Courses
The Student Leadership Team at Whickham have have created an A Level Review Website to showcase why the current Sixth formers chose their A-levels, what they enjoy and what you can expect from the subject.
We hope it will help you gain a better insight to the courses you are thinking about taking, helping to decide which subjects are right for you.
Further information about subjects & combinations
Using nationally available data an organisation called the Fisher Family Trust has published a list of the most popular A-levels and combinations: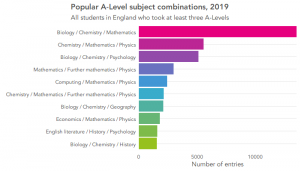 Sixth Form Study Programme
The school is required to ensure that all students have a study programme that complies with national requirements (here). As part of this all students will be registered on a programme that meets the following four key principles:
The core of the programme is made up of one or more substantial qualifications that stretch and prepare students for the next stage of their education or for employment. At Whickham these will be predominantly A-level or BTEC courses.
Students who do not have at least a GCSE Grade 4 in either or both of English and mathematics are required to study these
An opportunity to undertake work experience (this is offered primarily during Year 12)
Other non-qualification activity which aims to develop students' character, broader skills, attitude and confidence.
We offer full-time education and therefore students are required to be on a programme which offers at least 540 planned learning hours a year. The majority of students study a programme of at least 600 planned learning hours.
Students with additional or special educational needs are encouraged to get in touch so we can discuss how we can support these needs following the SEND Code of Practice.
Significant additional detail can be found in our course booklet which is published annually.