Parents and Carers Information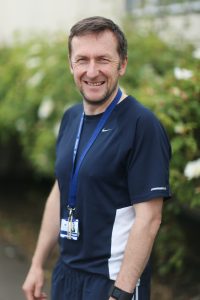 I am delighted to welcome your child to Whickham School from September 2021. 
This page will provide you with information about Uniform, Starter Packs, Copies of letters we send you along with details of any Information we need from you.  Please do view the other pages with your child.  Over the coming weeks we will be providing school tours, meet the tutors, challenges and much more.
Should you have any other concerns or queries you can contact me using the Year 6 Contact Form 
We are looking forward to a productive partnership with you to ensure your child achieves their potential. We recognise that, in order to be successful in school, children need support from both home and school. We know a strong partnership with you will make a great difference in your child's education.
Yours sincerely,
Mr J McCaughey, Senior Pastoral Leader
School Uniform
The Whickham School uniform identifies Whickham students as proud members of the school and community. At all times students are to wear the uniform with pride and respect for all that it represents. Uniforms can be ordered from the Michael Sehgal website and delivered directly to your home address.
Click here to view the Whickham School Uniform Code
Click here to view Guidance on How to wear the School Uniform
Important information from Sehgal's regarding sizing, ordering & returns Summer 2021: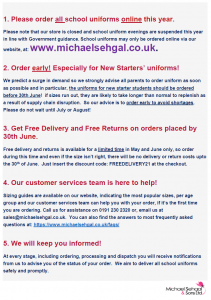 PE Kit
This can be purchased online from the Impak website and will be delivered to school for collection.  PE kits can be collected from Whickham School on Saturday 3rd July in the Sports Hall.  Please adhere to the following times in surname alphabetical order to ease congestion and so that we can follow social distancing guidelines. 
09.00 – 09.30am   A-D
09.30 – 10.00am   E-H
10.00 – 10.30am   I-L
10.30 – 11.00am   M-P
11.00 – 11.30am   Q-U
11.30 – 12.00pm   V-Z
PE suppliers will also be available at Whickham School on Saturday 10th July (9.10 – 10.30am)  for returns/exchanges. Any outstanding PE kits will be delivered to school in September and the supplier will email you directly to to confirm that your kit is ready for collection.
Important information from Impak regarding ordering & deliveries Summer 2021: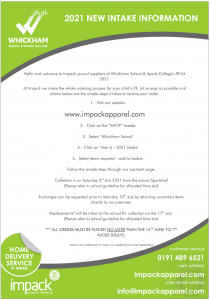 Starter Packs
The Year 7 starter pack contains an equipment pack, tie, apron (for Design and Technology lessons), a pupil planner, a scientific calculator and a sketchbook.  The cost of the pack is £22.  Payments can be made in our on-line shop. The Starter packs can also be collected on Saturday 3rd July in the Sports Hall when you collect your PE kits.
Personal information
We will require some important information prior to your child attending Whickham School and will email an electronic questionnaire to you for this purpose.  If you would prefer a paper copy, please contact the school office on 0191 4960026 and we will post the forms to you. 
Click here to complete the personal information questionnaire
Year 7 Parent & Pupil Information Booklet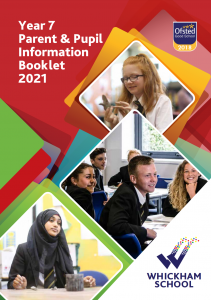 Scholars Bus Services
Free School Bus Passes
An application form, for those who are eligible, is available from Gateshead Council's Service to Schools Team via the Council's website: https://www.gateshead.gov.uk/article/2784/School-transport
Letters to Parents