Last updated: 19/09/2020
Risk Assessment
Our Risk Assessment document has been updated to reflect that the DfE Helpline and not Public Health England is now the point of call for schools for Covid-19 queries or in the event of a confirmed case.
Face Coverings
Recent media coverage and changes in Government advice have resulted in a situation where different schools are implementing different policies in relation to face coverings. Our position has always been that we will follow Public Health England advice and ensure that we are minimising the risks associated with Covid-19 to both staff and children. Our local area is not currently identified as one where transmission of the virus is high. We do feel, however, that the use of face masks during key times within the school day, will provide staff, students and parents with additional confidence with full-reopening of the school from September. We are also a large and busy school where we are maintaining a full curriculum and will have student movement at various times of the day.
Returning to School – September 2020
Please find some detailed information regarding the return to school in September. It is important that you and all of our pupils know the plans that are in place to ensure that the start of the new academic year is safe and successful for everyone.
The School Day
In order to minimise Covid-19 risks we are amending the school day as follows: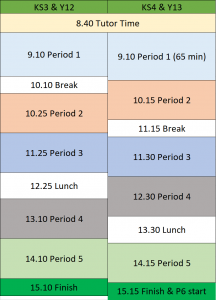 This will allow us to:
Keep year group bubbles separate by significantly reducing the number of pupils moving around the site at any one time
Keep pupils separated and safe at the end of school by staggering (by 5 minutes) the dismissal to avoid all 1600 pupils leaving site at once.
Allocate year groups to separate yard areas at break & lunch and ensure that only one year group needs to use a specific canteen facility at a time
Lesson Routines
Lessons start as soon as the bell rings. Staff to greet students at the door of the classroom. Pupils must wash their hands with sanitiser on entry to the classroom.
Students enter the classroom and put equipment, planner and books on desks. Students must not share any equipment. Students stand silently behind desks until the teacher tells them to be seated. Uniform must be checked and any issues must be reported to the Pastoral Leader immediately.
Students must sit in the seat indicated on the teacher seating plan and minimise physical contact at all times.
When the teacher addresses the class no student should be talking. The teacher should not accept any students talking when they are talking.
The teacher must use the lesson rewards and sanctions process as agreed in the Behaviour Policy.
 Students must stand behind desks at the end of the lesson in silence before being dismissed.
Students are dismissed after the bell has sounded. Teachers must ensure dismissal is  orderly and be present in corridors at lesson changeover to supervise students.
How will school be different in September – Guide for Pupils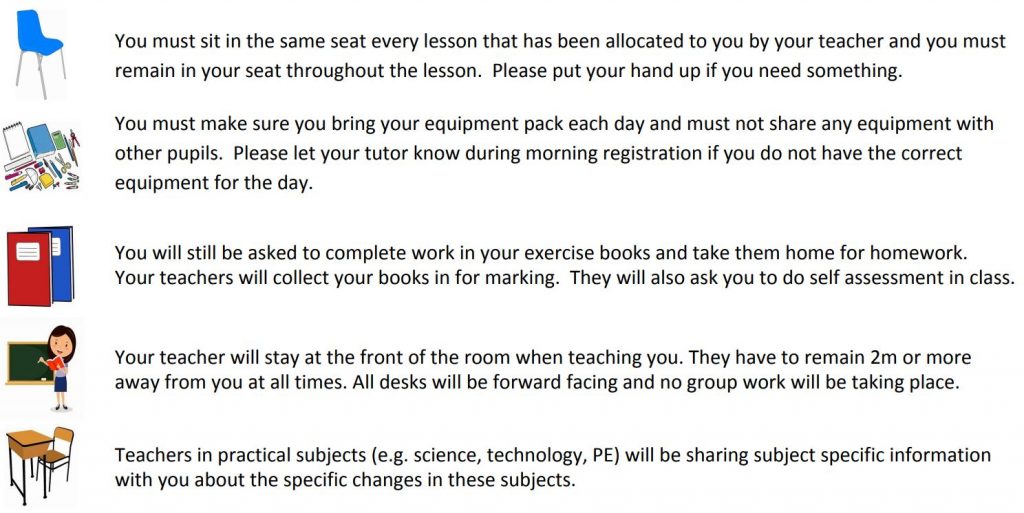 September 2020 – Key Documents