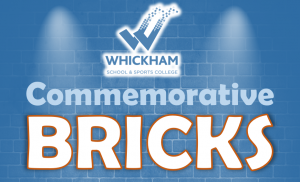 By gifting us a brick in your name or that of a loved one you will become part of the history of Whickham School.  In helping us to build our pathway to learning, you are helping to make our new school the very best it can be for future generations.
Our commemorative brick scheme offers you the ability to inscribe or dedicate a paving brick on the pathway to our new building.  This will not only significantly enhance the look and feel of the new site, but also offers you the opportunity to become part of the history and legacy of Whickham School, enshrined on our 'Pathway to Learning', a lasting testament to those who have attended or supported the school over the years.
We have priced the bricks at only £40 to enable as many of our families, friends, alumni and supporters to be part of the legacy as possible.  Your brick will be 200mm x 100mm and inscribed in black block letters (a gold inscription option available at £50 per brick).
Ordering your Bricks
Submit your order online using this e-Form
To print out a copy of the order form and return by post use this printable form
OR, to complete your order on line use this editable form and email it back to us at dross@whickhamschool.org
As a registered charity we can claim Gift Aid on any donations made by UK Tax payers, which means that we can claim an additional 25% of your donation from the Government, therefore please do remember to complete the Gift Aid Section on your donation form.
Payment Options
Parents of students at Whickham School can make payments via their ParentPay Portal
Members of the public can pay on-line in our On-line Shop
Or you can return your order form with a cheque (made payable to Whickham School)